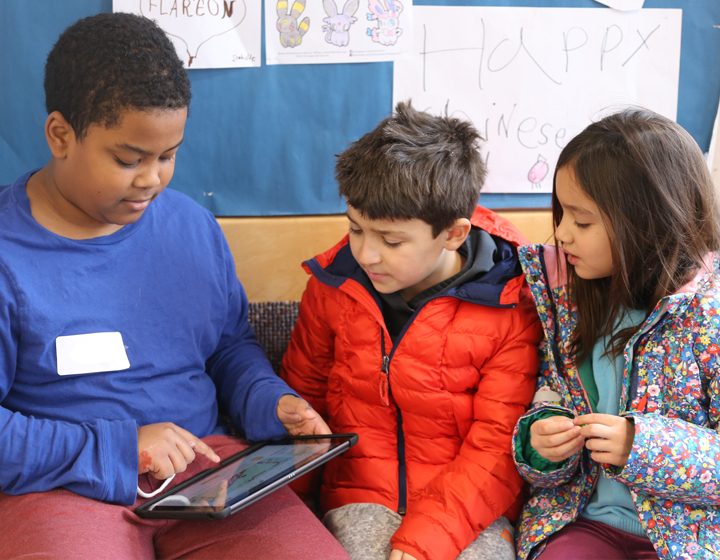 In honor of Dr. Martin Luther King, Jr., our middle school students led workshops for Grades PreK to 5 students on Friday, January 20. Using MLK's famous Theodore Parker-inspired quotation "the arc of the moral universe is long, but it bends toward justice" as their central theme, middle school students and faculty have been working together for weeks to design workshops on a person or movement that they believe is "bending the arc" and bettering the world around them. All students took part in a workshop facilitated by a small group of middle school students and at least one faculty member.
True to our mission, this project helped us honor Dr. King's legacy and reinforced essential skills for our middle school students such as leadership, critical reading, information literacy, public speaking, problem-solving, and presentation through authentic practice. It also allowed our elementary students to be inspired by the work and enthusiasm of the older students and to think critically about how they, too, can change the world! Ask your Otter which workshop they attended! Click here for photos.
Middle-School Student- Led Workshops included:
The "Games" group designed an iPad-based Monopoly game that taught students about many of the games we all know and love that were designed by women and people of color.
The "Educational Equity" group designed stations where students were exposed to different learning disabilities and talked about how to make classrooms inclusive spaces for everyone.
The "Scientists" group designed a matching game to help students learn about famous scientists who are often overlooked for their accomplishments and their intersectional identities.
The "Sesame Street" group taught students about the show's original and continued desire to help children understand the world around them and see themselves reflected in the characters on screen. Students ended by making their own puppets.
The "Climate Change" group looked at rising water in cities around the world, focusing on Venice, Italy. Students made it "rain" in their model cities and talked about the effects of climate change and its often disparate impact on marginalized communities.
The "Barrier Breakers" groups looked at athletes who broke barriers and talked about athletics as a platform for social change.
"The Changing Face of Disney" group looked at how Disney has changed over time to include a wider range of characters and why broad representation is important.
The "Peaceful Protests" group looked at protests as a form of social activism, using Hong Kong as an example.