Responsibility for Ourselves, Our Communities, and the Future
The Young Alumni Award is awarded each year to an alumnus/a from the past five years who has demonstrated excellence in personal achievement or community service since leaving CRS.
Award Winners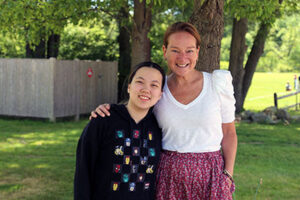 An Otter to her core, Tori Eysie is a CRS "end-to-ender." She started at Charles River School when she was in PreKindergarten and her teachers had the honor of watching her grow and learn through to her eighth-grade graduation. As a student at CRS, not only was she a dedicated MUN'er, but Tori also played on the soccer, basketball, and tennis teams. She served as Moderator in her eighth-grade year, was a member of the Robotics Team, and played Molly in the eighth-grade musical, Annie.
After graduating CRS in 2018, Tori attended Dana Hall School where she was elected Class President during her freshman, sophomore, and junior years. She continued on student council for her senior year and also founded and was president of the Anime Club.
She has been the recipient of multiple awards at Dana Hall including the Marguerite Aldridge Putnam prize, given in recognition to exceptional upper-level art students; the Fitzie Foundation Award, which allows the recipient to engage in activities that are unique and enriching; and the University of Virginia Jefferson Book Prize, awarded to the student who best represents the ideals of scholarship, leadership, and citizenship.
Her CRS Middle School Advisor, Chris Raskin, described her by saying, "I think Tori's greatest strength is the way she embraces life and the opportunities she is given. She is multi-faceted – an athlete, an artist, a music lover, a seamstress, a baker, a great friend, and a risk-taker. She wants to try everything."
Her college counselor at Dana Hall shared that, "There is nothing that brings Tori down – positivity and enthusiasm are in her blood, and she finds joy in being joyful."
Our mission is to honor the pursuit of academic excellence and the joy of childhood. We nurture each child by igniting curiosity, encouraging creativity, and cultivating intellectual engagement. Our graduates know themselves, understand others, and shape the future of our diverse world with confidence and compassion.
During Final Assembly, as she presented this year's Young Alumni Award to Tori, Head of School Gretchen Larkin said, "Tori, you quite literally embody the CRS mission. Your joy is infectious, your creativity bursts from each piece you create, and your compassion toward others makes us proud to call you an Otter. We are so excited we are to see you soar."
Tori will attend Boston College in the fall, with plans to pursue a degree in art.
Andrew Daniels joined Charles River School as a seventh-grader in 2015. He quickly gained the respect and friendship of classmates and was elected Class Moderator during his first year at CRS. He also volunteered with the Admissions Office to speak about his experience as a new middle school student. Director of Admissions Kat Whitten says, "It's the rare student who is selected to serve on an Admissions Open House panel just six weeks after starting at a new school, but Andrew made a quick and lasting impression on all of us. Since his graduation, he has frequently returned to campus to speak about how impactful the 7/8 program was for him and how it set him up for success in high school."
Andrew continued to lend his strong leadership skills to Beaver Country Day where he attended high school. At Beaver, Andrew was elected Student Council Grade Representative during both junior and senior years. He was named captain and MVP for the JV tennis team as a sophomore and went on to play for the varsity team. A talented guitarist, Andrew was also selected for Beaver's elite Cuban Jazz Ensemble.
Andrew cares deeply about those in his community, particularly those with special needs. As president of the Acoustic Coffeehouse Club at Beaver, he spearheaded a virtual performance of "Here Comes the Sun" for senior centers during the pandemic. Last fall, during a term at the NuVu Innovation School, an intensive, multidisciplinary, studio-based academic program on MIT's campus, Andrew worked with a man with spastic quadriplegia cerebral palsy to make an assistive device that allowed him to play the guitar.
At Beaver, Andrew received numerous awards, including Mente Et Manu for outstanding contributions to the school, the Faculty Prize for academic excellence, and the Modern Language Award in Spanish. He graduated near the top of the class with the most demanding academic program Beaver has to offer.
Perhaps most impressive is Andrew's character. His college counselor describes him as "one of the most impactful, nurturing, humble, generous, and self-aware students I have worked with in 25 years. Extraordinary, bright, hardworking, indefatigable, and curious, there is not a space on our campus he has not touched, tried, and inevitably made better. Andrew inspires others to be their best selves. We have a lot to learn from this remarkable young man."
Andrew attended Final Assembly in June to receive his award, and shared, "The foundation CRS laid for me made my success in high school possible, and will continue to help me thrive in all facets of life in the future. CRS taught me how to collaborate, think critically, share ideas, problem-solve, work hard, stay curious, and, most importantly, love learning." Andrew will attend Northwestern University next fall, and we can't wait to see what he'll accomplish next.
When Malik Gomes Cruz, Class of 2015, accepted the CRS Young Alumni Award during the final assembly last spring, he took the opportunity to speak directly to CRS students of color: "To all the Black and Brown students, know that your achievements are extraordinary. Always strive to do the impossible."
During the virtual address, he also thanked his CRS teachers for cultivating a love of lifelong learning. In particular, he thanked middle school teachers Chris Raskin and Leigh Hutchinson for teaching him to be a global citizen. Malik said, "While I didn't realize at the time, I was becoming an advocate for social change. They cultivated my passion for diversity, equity, and inclusion work. Who I am is, in part, is because of Charles River School's commitment and its dedication to forming socially aware students."
After graduating from CRS, Malik attended Cambridge School of Weston, where he served as a dorm leader and a student leader for the Diversity Committee, Gay-Straight Alliance, Gender and Sexual Minorities, Queer People of Color, and Students Advocating for Life without Substance Abuse. He also participated in the NAIS People of Color Conference and Student Diversity Leadership Conference. During his time at CSW, Malik was closely involved in the planning and execution of numerous campus events, including Diversity Day, Social Justice Day, Culture Fest, Dance Concert, Evening of the Arts, New Student Orientation, and more.
Director of Student Programs for Equity & Inclusion at CSW, Jordan Clark, who worked closely with Malik on a number of projects, describes him as a "truly strong leader at CSW." Jordan went on to say, "The core of Malik's skill set is his ability to listen to those around him and always be willing to adapt. He leads with empathy that allows him to connect with people in a sincere way. I cannot wait to see how Malik continues to use his opportunities to grow and affect change in the world."
In spring 2019, Malik was accepted to the Frederick Douglass Distinguished Scholars program at American University. As a member of this program, Malik received a full scholarship for all four years of his collegiate career. "It feels beyond surreal to win this incredible award," Malik shares. "With the Frederick Douglass Distinguished Scholars Program, I will be able to continue my passion for social justice advocacy and leadership. The FDDS program will provide me with the resources and connections I need to grow as a learner, student, and leader. I am extremely excited to be working with the other students in the program and esteemed faculty as I progress throughout my college years. I have been given a once-in-a-lifetime opportunity and I plan to take advantage of it fully."
Malik attends American University, where he is studying public relations and strategic communications.
Owen Asnis '15, the 2019 recipient of the CRS Young Alumni Award, attended Noble and Greenough School before matriculating to Harvard College. Owen achieved at a high level academically and earned many leadership roles during his time at Nobles. He served as co-president of the student body and led with his hallmark inclusivity, positivity, and enthusiasm. Owen was also elected as captain of the varsity cross country team and was president of the Nobleonians, the male a capella group.
At Nobles, Owen also served as a Prefect to the Head of School and a lead tour guide, participated in a student-run a capella group, and was a four-year bass guitar player in both the blues and jazz bands. He was the go-to bass player at the school and frequently supported other students in morning assembly performances. For four years, Owen served as the video coordinator for the boys' varsity hockey team, utilizing the XOS digital platform to provide the team with in-game video feedback. He enjoys service work and has formed a special connection with the Immigrant Family Services Institute in Boston, where he has volunteered.
Owen looks forward to participating in the Institute of Politics, student government, and activism at Harvard. He is a doer and someone who cares deeply for others; he is a role model, a loyal friend, and a true optimist.
Emily Whitten '14, the 2018 recipient of the Charles River School's Young Alumni Award, is a passionate voice for social justice – whether galvanizing her friends to make holiday cards for incarcerated minors, ensuring that local elementary school libraries have books that represent diversity, or attending rallies and demonstrations in Boston. There is no doubt that her interest in social justice is rooted in the 7/8 curriculum and in her involvement with the CRS Model UN program. She took to heart what she learned at CRS, and has continued to strive to consider others' perspectives and to take action where she can.
For two years, Emily served on MA State Senator Karen Spilka's youth council, providing her with the opportunity to weigh in on pending legislation at the State House, observe lawmakers in session, and help strategize ways to increase the involvement of youth in the government. She was also selected as one of the Massachusetts representatives at the World Affairs Seminar held at Carroll University, an annual program that brings together students from around the world for a week-long intensive seminar on education and social justice issues.
In high school, Emily was an active member of the National Honors Society and committed many hours to community service. For the past four years, she has spent several weeks each summer volunteering for a summer academic enrichment program for elementary children. She was a founding member of the Natick High School Peer Advocates, a group created to encourage conversations about diversity and inclusion within Natick High School. Through this group she was trained by "Facing History and Ourselves" to moderate difficult discussions; subsequently, she helped plan an evening of speakers last April called "Brave Conversations," where she led a breakout session.
As a member of the NHS Gender and Sexuality Alliance, Emily presented to local educators about discussing LGBTQ topics in the classroom with middle-school-aged students. Emily is also a founding member (and one of only two students) of the Natick Freedom Team, an organization comprised of government officials, clergy, and public safety officers dedicated to fostering unity within the community.  One of their first initiatives has been to establish a hotline, monitored by the Natick Police, to report biased-motivated threats, violence, and harassment. In addition to her academic demands, Emily has worked at the Natick afterschool program for years.
Emily believes strongly in giving back to CRS and has actively volunteered at the school since she graduated – as an assistant field hockey coach, an Open House tour guide, speaking on admissions panels, and preparing mailings. She has returned to work with the CRS GSA to discuss developing resources for CRS families to learn about LGBTQ+ topics and presented to Spanish classes about her travel to Costa Rica.
This June, Emily graduated from Natick High School and was the recipient of four different awards and scholarships: Global Citizenship Achievement Award; Virginia Tartakoff Social Studies Award; Katie von der Leith Spirit Scholarship; Johnson Elementary School Scholarship. She will join the class of 2022 at Bryn Mawr College in Pennsylvania this fall. We congratulate Emily on her extraordinary achievements and on receiving the 2018 CRS Young Alumni Award!
Young Alumni Award Nomination
The CRS Young Alumni Award is awarded each year to an alumnus/a from the past five years who has demonstrated excellence in personal achievement or community service since leaving CRS.