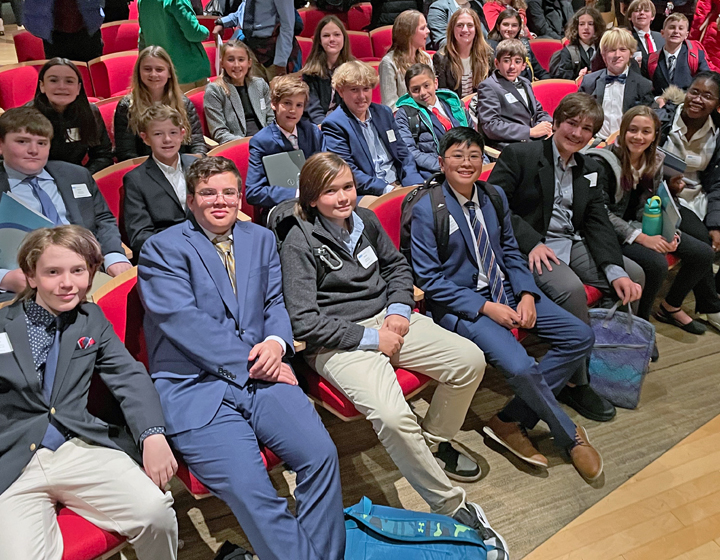 Nearly 400 students from across New England plan and prepare for several months leading up to The Middle School Model UN (MSMUN) Conference hosted by Northeastern University each year. Our Otters were among those who spent countless hours researching, learning, and writing prior to the event, and were more than ready when the conference commenced this past weekend. Twenty-seven CRS Model UN (MUN) students participated, presenting well-researched position papers and thoughtful, articulate speeches. As always, our students were respectful, kind, well-spoken, collaborative, and prepared.
Kudos to Casey Grimm '23 and Nate Newmark '24, representing Iran, who won Best Position Paper, as well as Nicolo Gaybor '23 and Lorraine Colas '25, representing Venezuela, who won Best Public Speakers. Caroline Webb '23, Milo Kjellander '25, and Wesley Pham '25 also presented well-prepared and articulated opening speeches. In addition to Nate and Casey, Dom Culbreath '24 and Caroline also received "excellent" remarks on their position paper.
MSMUN was a General Assembly conference with several different committees and various topics. Students receive their country assignment and committee assignment shortly after registering and have until the morning of the conference to read up on their topic, research their country, write a position paper, and delve into their country's response to the issue at hand. They receive written feedback from MSMUN staff on all position papers submitted.
Click here for photos submitted by parents and teachers. 
Next up for our MUNers: The December Invitational Conference will give award winners from the last two conferences the chance to stretch themselves in a no-prep conference about artificial intelligence. Each student will be partnered with someone from another school whom they will meet at the conference. Stay tuned!