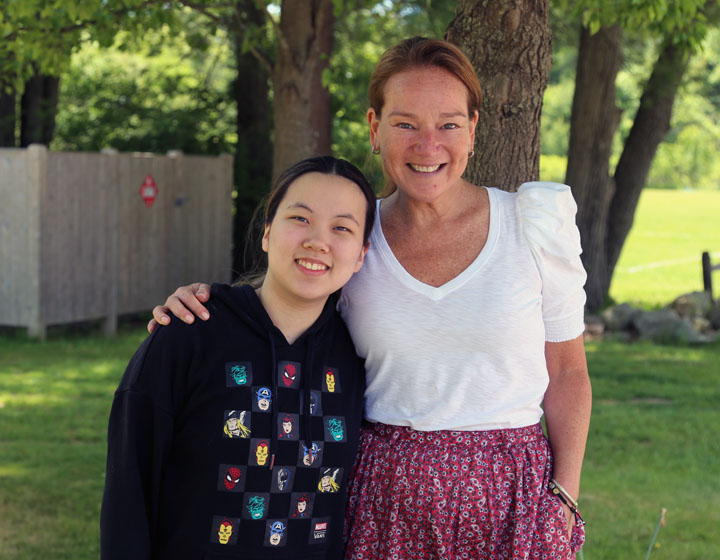 An Otter to her core, Tori Eysie is a CRS "end-to-ender." She started at Charles River School when she was in PreKindergarten and her teachers had the honor of watching her grow and learn through to her eighth-grade graduation. As a student at CRS, not only was she a dedicated MUN'er, but Tori also played on the soccer, basketball, and tennis teams. She served as Moderator in her eighth-grade year, was a member of the Robotics Team, and played Molly in the eighth-grade musical, Annie.
After graduating CRS in 2018, Tori attended Dana Hall School where she was elected Class President during her freshman, sophomore, and junior years. She continued on student council for her senior year and also founded and was president of the Anime Club.
She has been the recipient of multiple awards at Dana Hall including the Marguerite Aldridge Putnam prize, given in recognition to exceptional upper-level art students; the Fitzie Foundation Award, which allows the recipient to engage in activities that are unique and enriching; and the University of Virginia Jefferson Book Prize, awarded to the student who best represents the ideals of scholarship, leadership, and citizenship.
Her CRS Middle School Advisor, Chris Raskin, described her by saying, "I think Tori's greatest strength is the way she embraces life and the opportunities she is given. She is multi-faceted – an athlete, an artist, a music lover, a seamstress, a baker, a great friend, and a risk-taker. She wants to try everything."
Her college counselor at Dana Hall shared that, "There is nothing that brings Tori down – positivity and enthusiasm are in her blood, and she finds joy in being joyful."
Our mission is to honor the pursuit of academic excellence and the joy of childhood. We nurture each child by igniting curiosity, encouraging creativity, and cultivating intellectual engagement. Our graduates know themselves, understand others, and shape the future of our diverse world with confidence and compassion.
During Final Assembly, as she presented this year's Young Alumni Award to Tori, Head of School Gretchen Larkin said, "Tori, you quite literally embody the CRS mission. Your joy is infectious, your creativity bursts from each piece you create, and your compassion toward others makes us proud to call you an Otter. We are so excited we are to see you soar."
Tori will attend Boston College in the fall, with plans to pursue a degree in art.
The Young Alumni Award is awarded each year to an alumnus/a from the past five years who has demonstrated excellence in personal achievement or community service since leaving CRS.