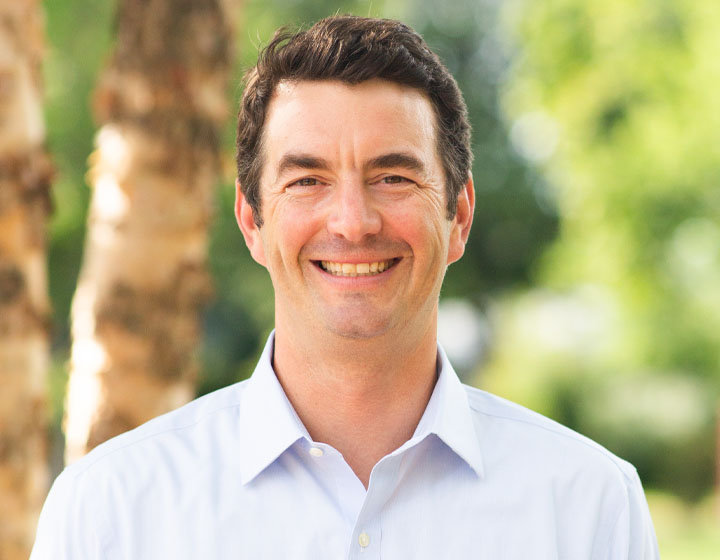 The Board of Trustees is thrilled to announce the appointment of Gabe Burnstein as Charles River School's next Head of School, beginning July 1, 2023. The Board unanimously approved the Search Committee's recommendation to appoint Gabe as the school's 11th Head of School, following an eight-month search process that included many members of the CRS community.
"We are overjoyed to welcome Gabe to CRS," says Leslie Jackson Judge '91 P'24 '26, President of the Board of Trustees. "During his time on campus, Gabe was thoughtful and engaging in his conversations with teachers, parents, and students. It is clear that he is passionate about student-centered progressive education, as well as Charles River School's commitment to community, equity, and belonging. We know he will bring a strong vision as an educator and leader."
Gabe currently serves as the Middle School Director for The Gordon School in Providence, R.I., and brings to CRS nearly 20 years of experience working as a teacher, advisor, coach, consultant, and leader in independent schools. He began his career at Campbell Hall School in California, where he redesigned the curriculum as a humanities teacher to include collaborative, project-based learning. At Campbell Hall, Gabe also served as a junior high advisor and dean of students. He joined The Gordon School's faculty in 2008 as a humanities teacher and eighth-grade advisor. For 10 years in the classroom, Gabe taught with an emphasis on multicultural practice, social justice, and inclusion. He led the eighth-grade Civil Rights trip to Alabama and Georgia, and he co-coordinated the eighth-grade Service Learning Program. Gabe also served as a facilitator for Gordon's Institute on Multicultural Practice and for a White Affinity Group.
In 2018, Gabe was appointed the Middle School Director at Gordon School. In this leadership role, he hires, supervises, and evaluates faculty and oversees student schedules and support systems. He manages the middle school budget, facilitates restorative justice practices, and makes disciplinary decisions. Throughout the pandemic, Gabe coordinated the Middle School Online Learning Community and Gordon@Home program. Also during his time at Gordon, he has served as the Faculty Board Representative, a member of the Leadership Team, the Finance Committee, the administrative liaison for the Personnel Committee, the Diversity Committee, and the Anti-Racism Working Group for White Parents.
Gabe grew up in Michigan and earned a bachelor's degree in English and Film at The University of Michigan. He went on to earn his master's degree in Independent School Leadership at Teachers College, Columbia University. During his impressive career in education, Gabe has presented at numerous workshops and conferences and served as a consultant to schools across the country on policies and teaching practices related to diversity, equity, and belonging.
We would like to thank the CRS community for enthusiastically participating in this selection process and providing invaluable feedback. We would also like to thank the members of the Search Committee for their extraordinary service and dedication to Charles River School.
As we celebrate this exciting appointment, please join us in congratulating Gabe and welcoming him, along with his wife Rebecca and their four children, Remy (age 15), Moses (age 6), Juliette (age 6), and Max (age 2), to the CRS community.