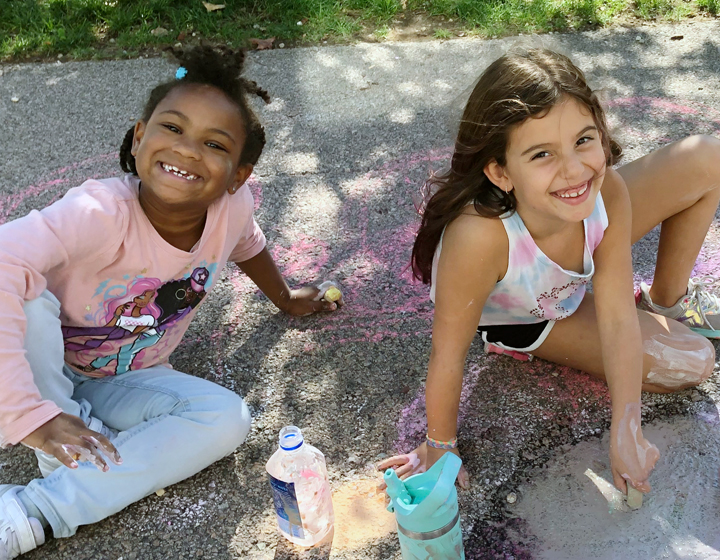 Written by Netra Srikanth, Director of Auxiliary Programs
Our Extended Day Program (EDP) has always been a much-loved CRS program, providing our students with the time to do homework, play with friends from other grades, and engage in fun activities indoors and out. This year, with a slew of brand-new enrichment activities and pop-up clubs, EDP has become the center of a robust after-school world! Students in our STEM Lab classes have worked with STEM teacher Binu Gopinathan to develop their engineering, science, and collaboration skills and have made wind-powered cars, created movable hands with joints, launched rockets, and cleaned up oil spills.  Every Wednesday, we have an excited group of students waiting by the EDP room door for Master Jung, our martial arts instructor. Master Jung combines the learning of martial arts, focus, and respect with loads of fun and laughter, and our kids always come out of class with big smiles.
You'll often see kids walking back and forth between buildings with an EDP teacher in tow. They are heading off to their music lessons, which we are continuing this year in partnership with Keys for Kids. We have students from all grades learning the guitar, ukulele, piano, and drums this fall! Our after-school music teachers Jacob, Sarah, Bob, and Justin are wonderful and we can't wait for our winter recital in January to see (and hear) all the amazing things our kids have been working on.
Coach Billy's three-session soccer workshop for Grades 2 and 3 has been another popular offering this fall. Kids are working on building their soccer skills and understanding the game with one of their favorite CRS teachers. At the same time as soccer, we have a multi-grade yoga class.  PreK students, eighth graders, and everyone in between work on meditation, breathing, and other calming exercises for the mind and body.
One of the brand-new roles that our EDP teachers are playing this fall is leading pop-up clubs for kids who are enrolled in EDP.  Last Monday, kids in Cricket's Sewing Club showed off the pillows and potpourri bags they had made that afternoon. This has been a great opportunity for interested students in Grades 3 and up to learn how to use a sewing machine and work with fabric. Bear, another one of our teachers in EDP, will be launching Art Club this winter.  Each meeting of the Art Club will allow students to explore and have fun with a new medium in the visual arts.
There is so much more to come this winter, with a continuation of many of our fall activities and some new surprises!