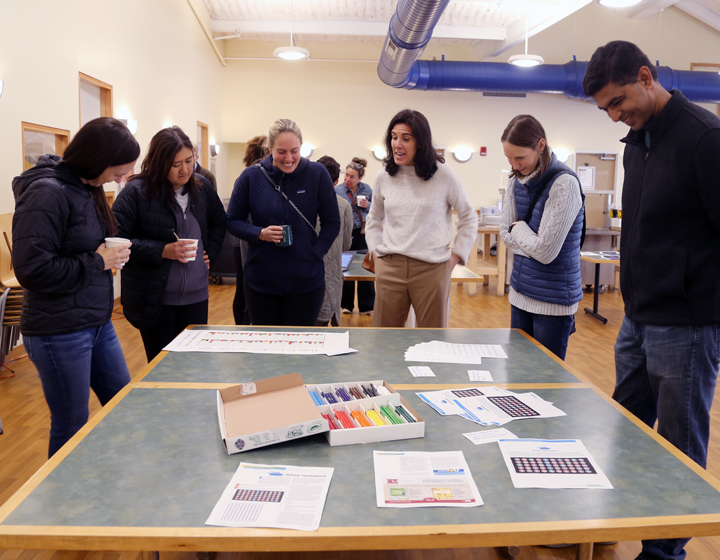 Our most recent Parent/Caregiver Curriculum Coffee transformed the Dining Hall into an interactive, hands-on exploration of mathematics at CRS. Grades 7 & 8 Math Teacher and PreK-Grade 8 Math Curriculum Coordinator Lizz Albany and Associate Head of School Elizabeth Clayton provided parents and caregivers an opportunity to play with and sample some curriculum offerings and join rich math discussions. The goal for this event was twofold; first, it was a chance to "lift the hood" for parents and caregivers to see the inner workings of the math scope and sequence across Charles River School. Secondly, it was a renewed invitation for all families to actively partner with the school in developing mathematical thinkers and problem solvers, knowing that the math landscape can feel intimidating, new, or confusing for many people.
Tables were filled with mathematical activities that are happening in many of our classrooms, from number representation in many forms in our youngest classrooms to the "Alien Numbers Challenge" in fifth grade, to transformations flipbooks in eighth grade. There were different math tools available to look at and play with, and teachers encouraged guests to actively engage in the activities offered. There were also a few polls about math attitudes and homework habits as well as copies of several articles that address the impacts of math anxiety and the things we as parents and teachers can do to support math learners.
At the conclusion of the interactive portion, the event shifted to a brief conversation with Lizz about the changing math landscape, the philosophy behind our hands-on, real-world approach, and the importance of parent-teacher partnership. We closed with some wonderful questions from parents and caregivers addressing topics such as differentiation for our broad range of learners and forms of assessment at CRS.
Tips for Parents
DO talk positively about math.

DO encourage a growth mindset in math; help children understand there is always room for growth and that hard work will lead to progress.

DO highlight the ways math comes up in everyday life.

DO reach out to your child's teacher if a math concept or assignment isn't making sense – to you or to them. We want to partner with you on this journey.

DO treat math like reading – something we do every day that helps us better understand the world around us.

DON'T classify as "a math person" or "not a math person."

DON'T emphasize speed in math – this is one of the leading causes of math anxiety.

DON'T feel pressure for homework to be perfectly completed. Teachers want to see what students don't understand independently yet. 
Articles
Games and Books
We are compiling a list of games, books, and more on the Padlet linked below. Each item is tagged with an estimated grade level range.